Hey Loves, today I got one of my current favorite combinations for you: fishnet socks and the perfect Lookalikes to the Gucci Princetown slipper. Well, if you would have asked me at the beginning of this year about net socks, I would have immediately thought of carnival or the erotic industry. 😀 But in the meanwhile, fishnet socks have become a huge trend and are part of lots of streetstyles. Find out how to wear them in todays outfit post…
Ihr Lieben, heute gibt es nun endlich eine meiner derzeit liebsten Outfit-Kombis: Netzstrümpfe zusammen mit den Gucci (Lookalike) Fell – Slippern. Hätte man mich Anfang des Jahres nach Netzstrümpfen gefragt, hätte ich wohl eher an Karneval oder die Erotik-Industrie gedacht. Aber mittlerweile sind sie aus Streetstyle-Outfits nicht mehr wegzudenken, wie auch die gehypten Gucci Slipper. Wie ihr die Netzsöckchen am besten kombiniert plus die perfekte Alternative zu den Gucci Slippern gibt es im heutigen Outfitpost… .
The perfect Lookalike: furry Gucci Princetown Slipper
Another trend which is going on for some time now are Slipper and Loafer. It all started with the Gucci Princetown slipper, which became since then a streetstyle staple for nearly every look. Maybe you remember that I already showed you the perfect Lookalike for the Gucci Slipper in this outfit. So today I have the best alternative for you, if you're still searching for the version with fur. I found these furry slippers at She In the other day and they really look almost the same as the Gucci Princetown Slipper! Plus, I would have never imagined that they would be that warm!! 😀 Below you can also grab a discount for your order, which is a really good offer I think. So if you're still looking for an affordable and perfect alternative to the furry Gucci Princetown Slipper: stop searching, this is it! 🙂
Ein weiterer Trend, der uns schon seit einiger Zeit begleitet, sind Slipper und Loafer in jeglichen Varianten. Angefangen hat dies wohl mit den inzwischen sehr gehypten Gucci Princetown Slippern. Vielleicht erinnert ihr euch an meinen Sommer-Look, in dem ich euch damals schon eine perfekte Alternative zu den Gucci Slippern heruasgesucht habe. Heute kann ich euch endlich auch eine super Version der Fell – Slipper ptäsentieren, die ich vor kurzem bei She In gefunden habe. In meinen Augen sind sie das perfekte Lookalike zu den Gucci Princetown SLippern mit Fell, und dazu noch erschwinglich. Von der Qualität bin ich bisher auch positiv überrascht, und sie halten sogar richtig warm durch das Fell. 😀 Ich habe euch unten noch einen aktuellen Rabattcoupon verlinkt, und falls ihr noch Fragen zu Größen etc. habt, stellt sie mir gerne in den Kommentaren. Also falls ihr wie ich noch nach einer erschwinglichen und perfekten Alternative zu den Gucci Princetown Slippern mit Fell gesucht habt: ihr könnt die Suche beenden, hier sind sie! 🙂
NEW APPEAL
Take 40% OFF Over US$55       CODE:PM40
Take 45% OFF Over US$100     CODE:PM45


Trend Report: Fishnet Socks
The fishnet sock trend already kicked off earlier this year. Maybe you remember one of my very first outfits here on Style Appetite, where I already wore fishnet socks with destroyed jeans & heels? (Wohooo kind of an early adapter here right?! 😀 haha) Over the summer time this trend swept away a little, but it is even bigger now. I would say that fishnet socks give an unique twist to every outfit. I am wearing them today with black skinny pants and a turtleneck sweater. I would even wear this outfit for an office day, as it is quite simple and sophisticated but with an edgy twist. Btw, you can also try fishnet socks with boots or block heels. So tell me your opinion, are you also a fan of the large-meshed socks?

Bereits im Frühling sind mir Netz-Söckchen aufgefallen, die vermehrt in Streetstyles auftauchten. Und vielleicht erinnert ihr euch auch noch an einen meiner ersten Outfitposts hier auf Style Appetite, wo ich Netzsocken mit Block Heels kombiniert habe? (Wow wie die Zeit vergeht – und ja, damals waren die Netzstrümpfe noch nicht überall ausvberkauft.. . :-D) Über den Sommer ist der Trend dann etwas eingeschlafen, aber dafür nun umso mehr zu sehen. Ich finde Netzstrümpfe perfekt, da sie einfach jedem Outfit einen bestimmten "Bruch" geben können. In meinem heutigen Outfit habe ich sie mit einer schwarzen Skinny Jeans und Rollkragenpulli gestylt. So würde ich sie sogar ins Büro tragen, oder was meint ihr? Aber ich mag es auch Netzsöckchen mal in Boots oder zusammen mit Block Heels zu tragen. Es gibt einfach sooo viele Kombi-Möglichkeiten. Seid ihr also auch schon Fan der grobmaschigen Söckchen? 🙂

♥
Shop My Look
Furry Gucci Looakalike Loafer: SheIn (here, and find a velvet version here)
Fishnet Socks: Asos (here, here or here)
Long Wool Coat: H&M (here, similar here)
Turtleneck: Zara (similar here)
Black Skinny: Asos (similar here)
Envelope Clutch: Zara (similar here)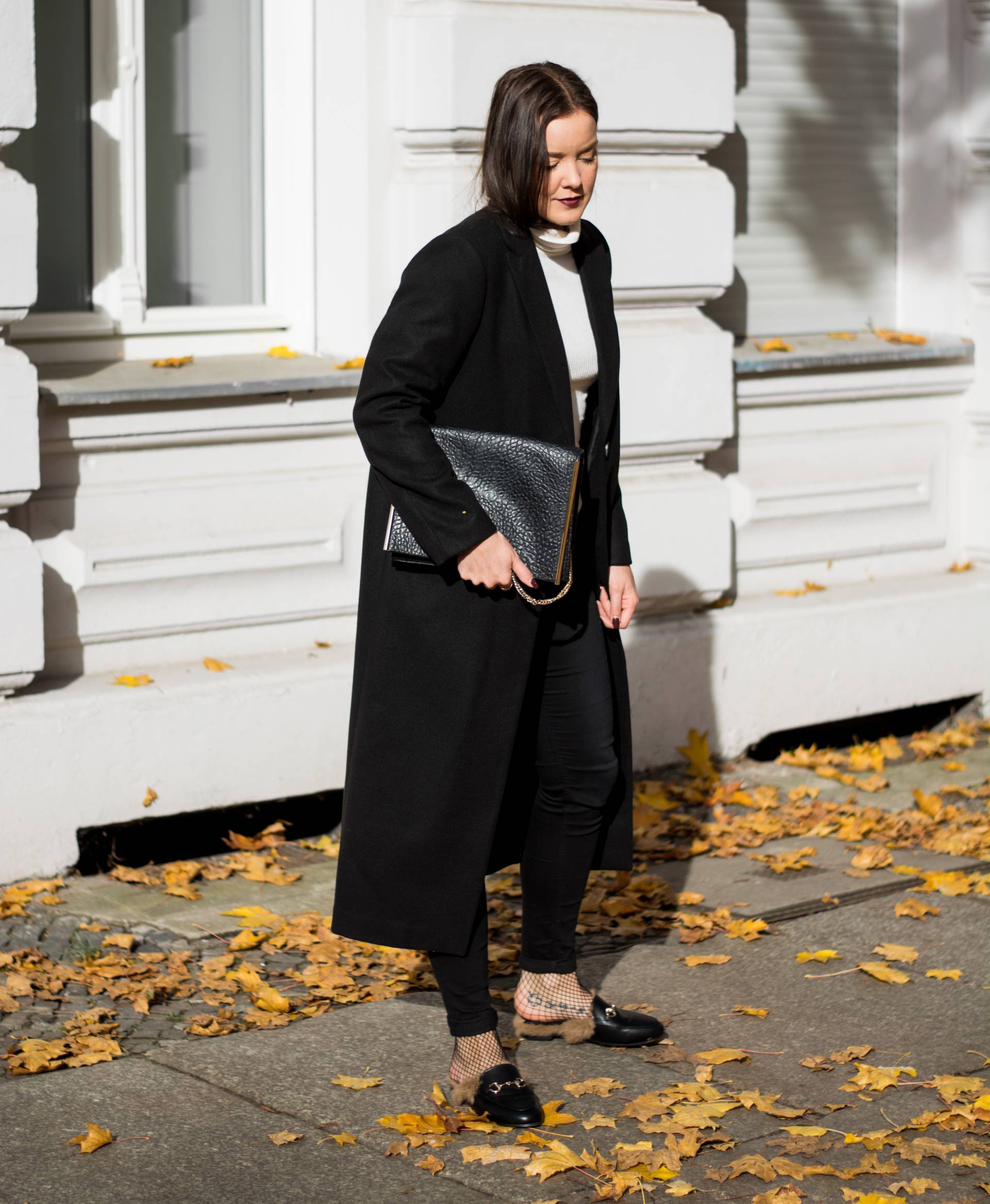 Merken
Merken
Merken
Merken
Merken
Merken