Another month is over – so it is time for another Monthly Review! April has been quite weird, especially regarding the weather here in Berlin. From snow and minus degress up to 20 degrees and sunshine – we went through literally everything! But before we can hope for a sunny May, let's check all outfits from april, your favorite posts on the blog and on Instagram plus my plans for the new month.
OUTFITS OF THE MONTH: APRIL
SATIN BOMBER & BOW KNOT MULES
The month started with this classic black and white look, which was more of a random shoot that we took. But it features teh perfect satin bomber jacket – find out what else was so special about it here.

RED COAT & FIRST BLOG BIRTHDAY
The second outfit was a very special one for me, as we shot it for the first Blog Birthday of Style Appetite . Plus, we ran through crowded Munich with this giant balloon number, which was pretty funny. 😉
BELL SLEEVE COAT & FAVORITE SPRING TRENDS
One of my absolute favorite looks since I started the blog was for sure this simple but cute spring outfit with the bell sleeve coat. And for that extra portion "Kitsch" I added some light pink roses. 😉 It also features my favorite spring trends, so in case you need some more inspiration – have a look here.
CASUAL JEANS & TSHIRT LOOK WITH V-NECK PUMPS
This Jeans & T-Shirt Look was at the same time a little homage to the "old Berlin" as it spread some nostalgia with its black-and-white shots. But also the outfit was quite simple – but it wouldn't be Style Appetite without some eyecatching accessoires right?! 😉 Gucci Belt and V – Neck Pumps have been some of my alltime favorites ever since – there is still no end in sight… .
PRESS DAYS OUTFIT | LEATHER JACKET, STAN SMITH  & GLASSES
The last look of the month has also been my outfit for the German Press Days here in Berlin. Thats why it had to be comfortable but still stylish. And of course you can never go wrong with some statement glasses and a bold lip, right?!
YOUR FAVORITE BLOG POST
Your favorite blogpost of the month was – surprisingly – not an outfit post but the first blog birthday of Style Appetite! Yayyy! 😀 So another round of champagne for all of us! Thanks so much for all your lovely comments and mails that reached me!
YOUR FAVORITE INSTAGRAM POST
The most liked photo on my Instagram feed has been an "oldie" from last month as we already took it in Lisbon. But as part of my Lisbon Travel Guide, you loved this picture just as much as I did. Can I go back, please?! 🙂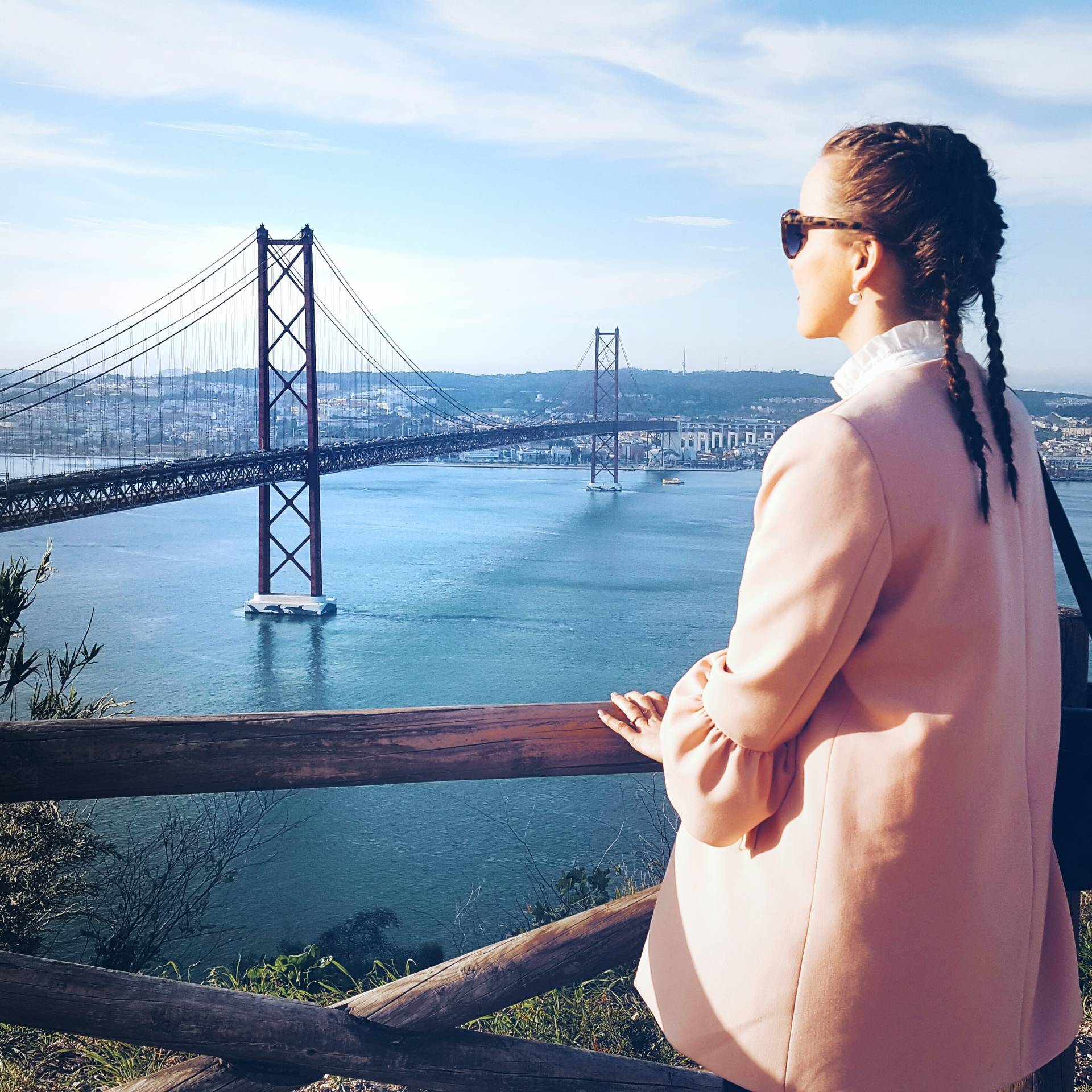 EVENTS OF THE MONTH
The month started almost immediately with my first blog birthday of Style Appetite! Of course I celebrated it with you on the blog here, but we also had lots of fun shooting these pictures in Munich. Munich treated us pretty good so that I could enjoy a sunny weekend with my girls in the bavarian city.
Coming back to Berlin, I have been invited to some blog events and meetings. One of my favorites was the Stilnest event, which I also reported about here. I'm still in love with their cute jewelry and phone cases – and you can look forward to some exciting stuff too… . 😉
Mid of April and we couldn't be happier since easter holidays were just around the corner right? Apart from the frosty – cold weather, I enjoyed some days off with ym family and my man in the north of germany. Time with the loved ones is time well spent, or how should I put it?! 🙂
To be honest, I don't know what happened to the last two weeks of april. Since I did a lot of preparation stuff for the babyshower of my very close friend, there has been sooo much to do. Apart from that, my man and I celebrated our 7th year anniversary. And last but not least, the german press days took place, which was a quite busy but also interesting time.
PLANS FOR MAY
Traveling-wise, I am already on leave as I am staying outside of Berlin with my girls for a quiet and relaxing weekend. Apart from that, I'll be going to Hamburg mid-may to visit some of my friends. So there are no trips outside of germany planned, but that's totally fine as I already know that we are going to London in June. 🙂

Blog-related, there are some cooperations and projects in the pipeline. Probably I can already tell you a bit more next week, when the launch of the first collaboration is planned. Also, I have been updating the "Press" section of my blog lately – so if you are interested, check it out here.
Personally, I will just see where it takes me. No seriously, I have the feeling that time rushes, I am getting more stressed, and I feel the pressure of not doing enough/ being enough/ whatever. So my biggest concern right now is just to "let it go" and relax more often. Probably you all know that feeling too well?
Thank you for reading this Monthly Favorites post & all my posts in general babes! I appreciate it so much & wish you all the best for the next month! And maybe you want to tell me about your plans for May?  ♥
This post contains affiliate links.
Merken
Merken
Merken